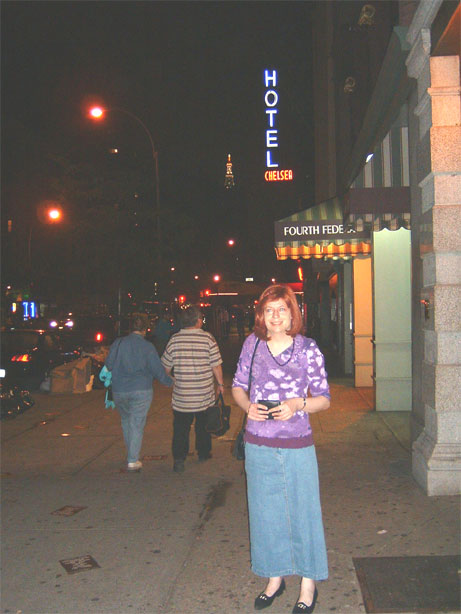 The Chelsea Hotel is super sleazy for sure, we had a big room, which had a giant 12 foot by about 7 foot mirror, on the wall behind the bed, must have been the Porno suite or something !, or was it the Sid and Nancy Room ?, but it was good and not too expensive for five nights and being in the Chelsea district totaly cool with trannys. You can check your email in the lobby at night, as they have a WI-FI hotspot. Loads of artwork on the walls too. Did all the other stuff ,walked to Times Square to see the lights, and usually tourist stuff, Central Park and so forth.It was a little hot though, about 80F most days.
Just got back from our trip to visit Helen which was really great. Once we checked in at the Hotel, we got changed and went to "East of Eight" a resturant and bar near the Hotel and heard all Helens gossip and spread some of our own, nothing good of course.Helen took us to see some cool nightlife, and I went to Helens Birthday Party on Saturday night. Just great cruising around NY in a yellow cab, then meeting all the new York girls. The party was in the yard,(translates to very small patio type garden),and we had a barbeque, with loads of veggie stuff, and most of the neighbours got invited too, as the yard is shared with all the apartments I think. Still the neighbours were cool anyway and totaly what you would expect in New York.

We were too tired to go clubing after the party so we just took the Subway back to the Chelsea, at about 1.30 am, its really lively that time of night, but a really liberating feeling to take the "A Train",(Yes. like the Duke Ellington song says if you want to go to Harlem,well actually we did'nt so we made sure we got on one going in the right direction) in my best lacy party frock. Freedom, but I forgot to take as many pictures as I should have done as I have been having such a good time. Also went to a Piano bar called "Don't tell Mama " where they had brilliant singing waitress's, totaly ace time.Its pretty much ok to go anywhere on Manhatten Island, but like here beware the burbs,(Queens,Bronx, so forth) and if you are going that far you would take a cab or get a lift.




Loads of veggie food places local to the Hotel, which is good as they have no room service, or for that matter kettles or irons, its more like the Chelsea bedsits in reality, and when I have saved up my pennys I hope to do it again.
I would recommend a tranny trip to NY anytime, and the Chelsea is the perfect Base
for it, our room for two cost sterling £125 per night approx. Depending on availabilty.